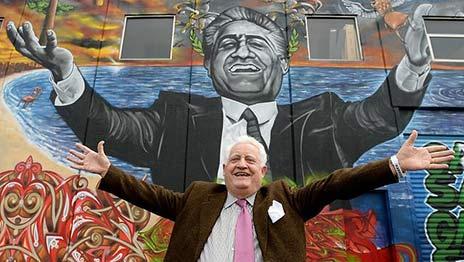 Long-term plans to upgrade Footscray are finally coming to fruition as a wasteland gets restored to its former glory, a new plaza and welcome arch are being constructed and a new mural has been created.
Railway Reserve upgrade
Landscaping and restoration work is almost complete at Railway Reserve, a historic park wedged between the back of Footscray Railway Station and McNab Avenue. The Edwardian rotunda has been restored, with connecting paths laid, and new trees, an open lawn and vegetation planted.
What was a long-time fenced off wasteland is now transforming into a green oasis just one minute's walk from VU's Footscray Nicholson campus. Find out more about the project on the Maribyrnong City Council website and see progress shots on the Maribyrnong City Council Facebook page.
Little Saigon market activation project
Closer to VU's Footscray Park campus, a proposed Welcome Arch design has recently been made available for public comment as part of the Little Saigon precinct activation project. Construction is planned to commence at the end of 2015 and will involve new retail and car parking facilities, a public plaza, alfresco space, upgrades to Byron Street and more street trees. The Welcome Arch design aims to convey Vietnamese cultural themes and will be located on Leeds Street.
Murals in Footscray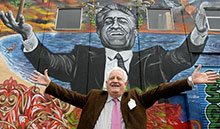 Continuing the artistic theme, two major street artworks of people who have had a big local impact are now on display in Footscray. Former Prime Minister and champion of Vietnamese settlement Malcolm Fraser appears on the side of the Asylum Seeker Resource Centre in Nicholson Street, and local furniture king Franco Cozzo stands with arms wide open in artwork on his Hopkins Street store.
Other Footscray happenings
And to top it all off, popular Footscray watering hole The Reverence Hotel in Napier Street has just won Best Live Music Pub 2015 in the Time Out Melbourne Pub Awards.
It's all happening in Footscray University Town.
Check out the latest Footscray University Town events.