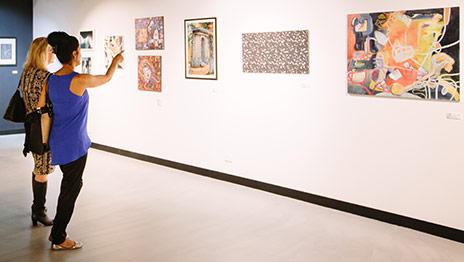 Victoria University and VU at MetroWest are offering the opportunity for all students studying Visual Arts (or Visual Art units) at VU to submit artwork to the New beginnings exhibition.
This exhibition will showcase some of the work VU students have created in 2015. We'd also like to welcome all commencing and existing art students to our new home in Footscray – the Visual Arts course will move from St Albans Campus to Footscray Nicholson Campus in 2016.
Exhibition dates
The exhibition will take place from 3 February - 2 March 2016.
Submission requirements
Work submitted can be new or old and made from any media. You must be a VU visual arts student to enter.
All expressions of interest should include:
title
description of the work (including size and media used)
short artist bio (approx. 50 words)
photograph of the work
your course and year level.
Email your submission to to [email protected] by Friday 4 December.
There will be a selection process and you will be notified by Friday 18 December.
Please note: due to the size of the space we may not have the capacity the show all proposals however we will try to reflect a diverse selection of work submitted.