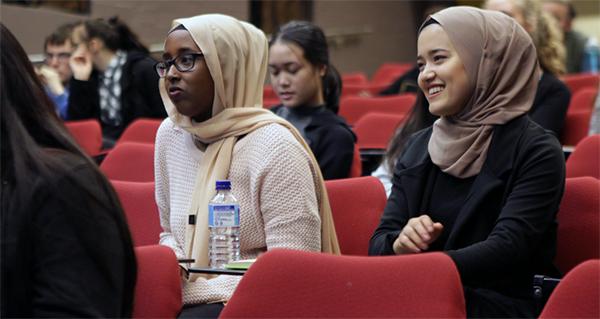 On 4 April 2017, 45 students from 29 schools across Victoria attended the first 2017 VU Legal Studies and Australian Politics Workshop (LSAP).
The students heard from prominent members of the legal profession, as well as current VU students, and learned that there are several pathways into law, many of which are not determined by your ATAR.
When asked about the  most important lesson they learned that day, one student said:
"Academic achievement is not proportional or intrinsic to legal-oriented success." 
Rob Hulls, former Attorney-General of Victoria, reinforced this message in his engaging and inspiring talk. Mr Hulls spoke of his own pathway into law, his rewarding work as a legal aid lawyer, experiences as Attorney-General and his current role as Director of RMIT University's Centre for Innovative Justice.
Students were interested in Mr Hull's perspectives on subjects including the democratic model of government and the recent media 
coverage of the Racial Discrimination Act debate. Mr Hulls left students with two key messages: don't listen to the naysayers who discourage you from following your dreams, and be sure to get out of your comfort zone.
The students took part in a heated negotiation exercise facilitated by Dr. Michele Griessmair, Assistant Professor at the University of Vienna and visiting researcher at VU. Each student took on the role of either a parent or child in a negotiation based around the all too familiar scenario of attendance at a party, curfews and cleaning the kitchen. Having honed their negotiation skills, students looked forward to applying these new found skills in real-life deliberations with their parents and siblings.
After lunch, the students watched the Blood Brothers episode "Broken English" which covered the Rupert Max Stuart case. The students then undertook a customised case study activity with our Teacher in Residence, Mr David Thomson. They explored issues of justice and fairness and examined how the Indigenous experience of the justice system has developed over time. 
Feedback on the day has been extremely positive, with students remarking:
"You do not need the perfect ATAR to achieve great things."
"[I learned] how an ordinary person can make a difference in the law and change the world."
"Don't listen to those who put you down."
LSAP is part of the Learn Experience Access Professions (LEAP) program. LEAP into Law aims to demystify the legal profession and encourages students from low SES schools to consider tertiary study.
The next LSAP workshop will take place on the 4 July, 2017. To learn more, visit LEAP activities, or contact Sophie Moore, LEAP into Law Coordinator, at [email protected].