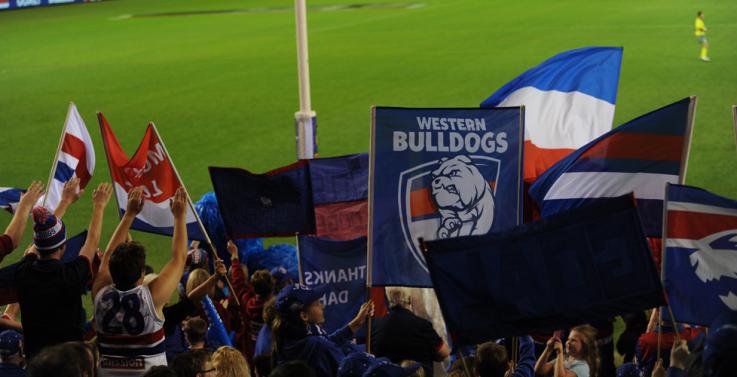 As a partner of the Western Bulldogs, Victoria University (VU) is pleased to be sponsoring the Western Bulldogs v Greater Western Sydney game. The match takes place this Saturday 30 May at Etihad Stadium as part of the AFL Indigenous Round.
The annual Toyota AFL Indigenous Round offers Australia the chance to celebrate the role that Indigenous athletes have played in shaping Australian Rules football.
In this VU sponsored video, Western Bulldogs Indigenous player Koby Stevens discusses the significance of the AFL Indigenous Round and the role it plays in bringing two cultures together. Supporters will see this played on the big screen at Etihad Stadium on Saturday, along with VU's new 'Prepare for Victory' video.
Moondani Balluk, Victoria University's Indigenous Academic Unit, has collaborated with the Western Bulldogs to provide a Welcome to Country and an Indigenous artist, Kutcha Edwards, for the pre-game entertainment. VU Indigenous students, family and community members will form the Guard of Honour on the field as players run out and will be seated with other community groups in the Bulldogs Backyard beside the cheer squad.
Victoria University's own Dr Matthew Klugman from the College of Sport and Exercise Science has been awarded the ($20,000) 2015 NSW Multicultural Award for his 2013 publication Black And Proud: The Story of an Iconic AFL Photo (NewSouth, co-authored with Gary Osmond). The award-winning book focuses on the iconic 1993 image of footballer Nicky Winmar's stand against racial abuse, which Koby says was a big driver in changing how Indigenous players are perceived in AFL.