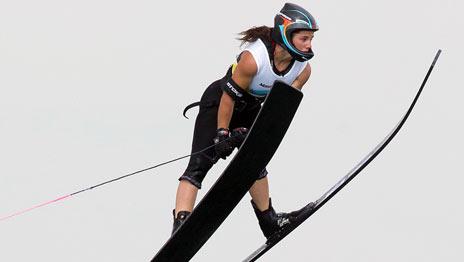 Victoria University has named Australian rowing team captain David Webster and world champion waterskier Jacinta Carroll as its 2013 Male and Female Sports Persons of the Year.
The VU Sport Awards recognise the University's best performed student athletes in Australian University Championships and students at the top of their sport. This year the top sport students included:
4 x table tennis Olympian Miao Miao
Paralympian gold medalist and wheelchair rugby player Josh Hose
National men's triple jump champion and 2013 World University Games representative Alwyn Jones.
David Webster, Male Sports Person of the Year, has competed in 4 rowing world championships and is a two time world champion as part of the light weight men's eight team and coxed pairs. David is the coxswain - the person in charge of steering and navigation. He is also VU's 2013 high performance Sport Scholarship holder. David is studying a Bachelor of Sport and Recreation Management.
VU's Female Sports Person of the Year, Jacinta Carroll, is studying a Bachelor of Exercise Science and Human Movement. She is the current U-21 women's world jump and overall champion and U-21 World record holder in jump competing in the World Championships taking place at the end of this month in Santiago, Chile. Jacinta has won the majority of pro events this year (6 in a row), been a member of the Australian team for the past six years and recently also received VU's Outstanding Student Alumni Award.
Luke Doerner inducted into Sport Hall of Fame
As part of the Sport Awards, the University also inducted Luke Doerner into its Sport Hall of Fame. Doerner was a member of the highly successful Australian men's hockey team, the Kookaburras, from 2005 to 2012, and is a veteran of 175 international matches and 112 goals. The penalty corner expert announced his retirement from international hockey in 2012.
Among Doerner's long list of achievements including a bronze medal won at the 2008 Beijing Olympics he won a total of five FIH Champions Trophies including an unprecedented four in a row between 2008 and 2011. He also claimed two Commonwealth Gold Medals as well as the 2010 FIH World Cup title, where he scored the winning goal against Germany in the tournament final and was named man of the match. He has publicly admitted that the World Cup success with the Kookaburras was his finest moment in hockey. Australia won the hockey World Cup after a gap of 24 years with a 2-1 victory over defending champions Germany in the final. Doerner scored the winning penalty corner.
Luke Doerner graduated from VU's Bachelor of Arts (Recreation) in 2003 and prior to that enrolled in a Diploma in Recreation (Sports Administration) in 2001 at the South Melbourne campus. Doerner also represented Victoria University in the Southern University Games whilst a student.