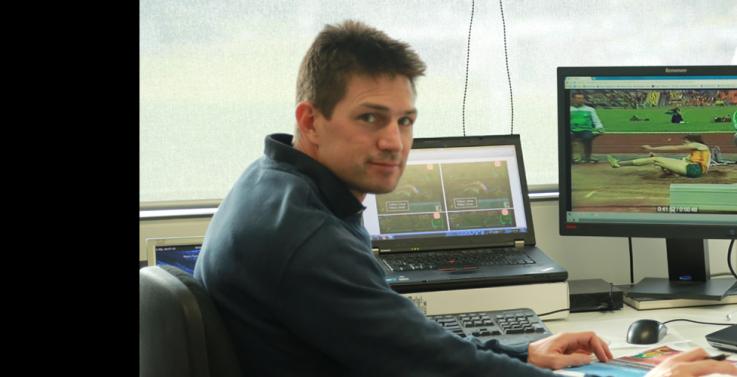 A Victoria University investigation has proved that a former Olympian could have been duped out of a gold medal 35 years ago.
The study, now being considered by the International Olympic Committee, could allow for a retrospective gold medal to be awarded to Australian triple-jumper Ian Campbell after he was disqualified at the 1980 Moscow Olympics. His jump was controversially raked away as a foul before it was measured.
Biomechanics experts from VU's Institute of Sport, Exercise Science and Active Living (ISEAL) examined television footage of the event to calculate the jump's length, using biomechanics and the science of perspective geometry and planar homography (or measuring distances from photos).
Lead investigator Dr Simon Taylor said the study proved that Campbell produced a huge jump of somewhere between 17.49 and 17.51 metres, which would make it the world's furthest jump to date, unassisted by wind or altitude.
"If it had been recorded, it would have been an Olympic record," he said.
Earlier this year, Athletics Australia (AA) commissioned the team of Dr Taylor, Dr Kevin Ball and Professor Rezaul Begg to review Campbell's jump.
The team's research paper, 1980 Moscow Olympic Games: How far did Ian Campbell jump? has been endorsed by international experts. It forms a significant part of the AA's application to world governing bodies to have Campbell's jump recognised due to judging mistakes.
The jump had been controversially disqualified for 'foot scraping' at the final jump phase.
Dr Taylor said it was impossible to determine conclusively if scraping had actually occurred at the time since the evidence available from the broadcast film cannot suggest either way.
"My role was to measure the jump distance and the evidence from the two independent methods we applied shows this would have exceeded the gold-medal jump by 15cm."
Dr Taylor met the now 58-year-old Campbell several times during the study.