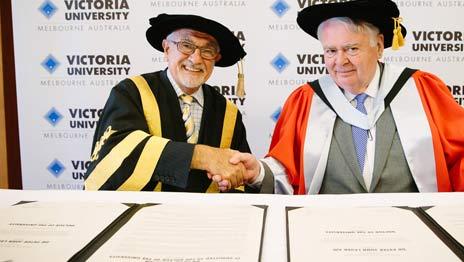 Peter Laver, the second chancellor of Victoria University, received an honorary doctorate from VU last month for his many contributions to science, technology and education.
Dr Laver had a distinguished business career spanning nearly 40 years with BHP or its subsidiaries.
Starting as a metallurgist, he advanced to senior roles in several areas, including steel, iron ore, transport, research, environment, safety and external affairs.
He also served on a range of boards and committees including:
Energy, Research and Development Corporation
CSIRO Strategic Advisory Committee (Energy Sector)
Australian Science and Technology Committee (ASTEC)
Prime Minister's Science Prize Committee
Premier's Science, the Engineering and Technology Taskforce
National Science and Technology Centre (Questacon).
Dr Laver continues to be involved in the research sector as a member of the Cooperative Research Centres Committee, a senior adviser to the Australian Academy of Technological Sciences and Engineering, and director since 2001 of the Australian Centre for Innovation.
In 2001, he received an Australian Centenary Medal for his outstanding service to science and technology, particularly public science policy, and in 2005, he became a Member of the Order of Australia for his service to industry, tertiary education and training, and science and technology.
Dr Laver remains connected to Victoria University as a member of its Chancellor's Centenary Circle, and as a committed VU advocate.
He served as Victoria University chancellor from 1995 to 2000 (when VU was called Victoria University of Technology) during a time of rapid change and amalgamations at the University.