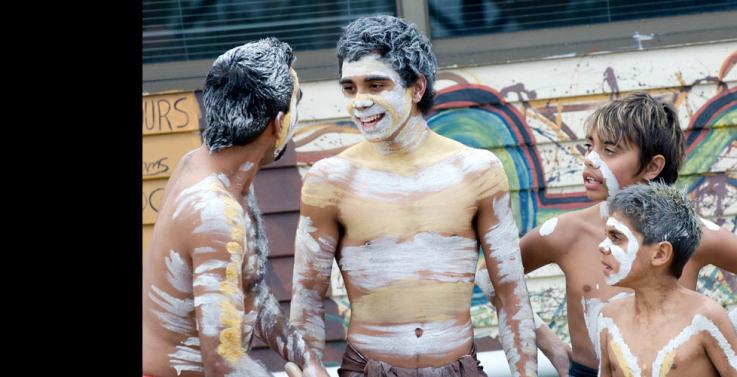 Victoria University is celebrating NAIDOC Week with several exhibitions and community activities at VU at MetroWest.
It will feature the work of Paola Balla, a winner of the 2014 Victoria Indigenous Awards and artist in-residence at VU's Moondani Balluk academic unit, located at St Albans Campus.
Her work, Born into Sovereignty, Live in Sovereignty will be on exhibition until 31 July.
The series of provocative works explore ideas of Aboriginal sovereignty, de-colonisation and identity. The exhibition features the image of a stunning vintage gown adorned with native Australian bird feathers and flora, as well as photographic prints and videos that are very personal, but also invite broader reflections on humanity, survival from trauma, healing and recovery.
Other events
A NAIDOC Week Forum (including afternoon tea) will be held Tuesday 7 July, 1-3pm.
Paola will be the featured artist at an Artist Talk and Workshop on Saturday 25 July from 11am-1pm.
The workshop will allow participants to create a one-off piece about identity, connection and belonging. Paola will share her processes of telling her own story and how it connects with her family stories and ways of using images and stories of self and family within contemporary art-making.
Register for the free workshop.
NAIDOC Week history
The history of NAIDOC Week dates back to William Cooper (Yorta Yorta), founder of the Aborigines Advancement League and resident of Footscray, who led a protest march in 1938 through the streets of Sydney.
The march, named the Day of Mourning, was followed by a congress attended by over a thousand people and is counted as one of the first major civil rights gathering in the world.
The Day of Mourning was held annually on the Sunday before Australia Day, as a protest on the treatment of Aboriginal people and was shifted to the first Sunday in July after it was decided to become a celebration of Aboriginal culture.
This celebration is now named NAIDOC Week; the words 'Observance Committee' remain a part of the acronym to recognise the work of the original Committee that was responsible for organising national activities during the week.