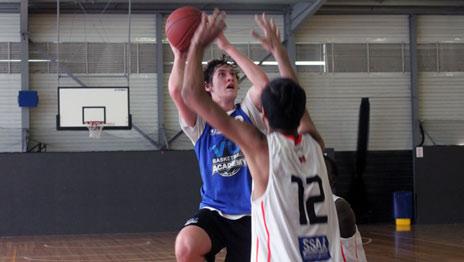 Two students from Victoria University's new Basketball Academy have received prestigious scholarships to play college basketball in North America.
Canada's Lakeland College has recruited Wallan resident Maxwell Viitala, 19, while Combine Basketball Academy of Charlotte offered a scholarship to Noble Park local Sukart Alex, 19, to play in North Carolina.
The young men are both from the VU Basketball Academy's inaugural class of 2014 which was launched with 16 recruits earlier this year under the direction of basketball great Andrew Gaze.
The Academy is designed for representative-level basketball players to reach their potential through high-calibre coaching while completing a one-year industry-focused Diploma of Sport Development specialising in basketball.
Academy Basketball Manager Nigel Purchase said it was great to see the program providing a stepping stone in its first year of operation for athletes wanting to experience college basketball overseas.
"We are very proud of Max and Sukart – they are two extremely hard workers on and off-court," he said.
At 196 centimetres, Maxwell was well known in local basketball as an effective guard with good three-point talent and strong leadership skills. In 2013, he captained both his secondary school, Assumption College, to a silver medal at the National Marist Basketball Tournament, as well as the Victorian team to a bronze medal at the Australian School Sport Nationals.
Sukart, a 185-centimetre defender and graduate of Lyndale Secondary College in Dandenong North, was part of the Melbourne Tigers Youth League squad, receiving its Club Man Award in 2013.
Both young stars were offered scholarships after contacting overseas colleges and providing their basketball resumes and videos of their on-court skills.
The VU Basketball Academy expects to select up to 40 more keen basketball players interested in combining full-time study with elite on-court basketball training for 2015. Prospective students apply through VTAC and complete a supplementary application form.