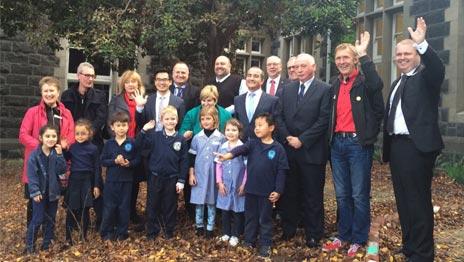 Victoria University is a key partner in the $15 million Footscray Learning Precinct, set to be the first of its kind in Australia.
Victorian Minister for Education, James Merlino, has announced membership of an advisory group set to drive the new Precinct.
VU Vice-Chancellor, Professor Peter Dawkins said it is exciting to embark on this collaboration with early childhood education providers, Footscray City Primary School, Footscray City College and other stakeholders.
The 11-member Footscray Learning Precinct Strategic Advisory Group includes State Member for Footscray Marsha Thomson, Maribyrnong City Council CEO Stephen Wall and representatives from the Department of Education and Training and local schools.
Professor Dawkins said the vision is for a learning centre with state of the art facilities for students across the education journey, from early learning to tertiary studies.
"Victoria University is an integral part of the local education community and the wider community. We see our participation in this new learning precinct as an opportunity to enhance our local links, and look forward to working with the Government, education providers and community stakeholders to make this project a success," he said.
Minister for Education, James Merlino said the advisory group will provide advice on the development of the Precinct, informed through engagement with the local community, educational experts and key stakeholders.
"We're working with locals and making sure that the precinct meets community needs, giving students the quality education they need to do their best," he said.
"A community engagement campaign, to be launched later this year, will work with locals to ensure that the new centre of learning has what the community needs at its heart."