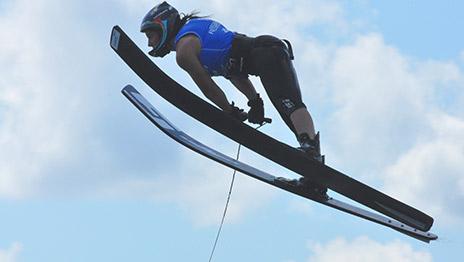 Jacinta Carroll, Bachelor of Exercise Science and Human Movement graduate and Outstanding Student Alumni Award winner, added to her accolades on 16 May with a world record-breaking jump.
The Team Nautique athlete flew to a new water ski Jump World Record of 193 feet (59.1 meters) behind the Ski Nautique 200 during the Sunset Cup/Masters Last Chance Qualifier tournament at Sunset Lakes in Groveland, Florida (USA).
"It was such an amazing feeling. You dream of this moment as a little girl and to finally do it is unbelievable! I am so thankful for everyone who has helped my career," said Carroll.
Carroll has proven to be unbeatable and this marks her 19th consecutive tournament win. She looks to continue her streak next weekend at the 56th Masters Water Ski & Wakeboard Tournament in Pine Mountain, Georgia.
Since joining the sport of water-skiing at age 10 and setting a goal to become a world champion at age 14, Jacinta has been determined to be the best in all she does. She was named Victoria University's 2012 and 2013 Female Athlete of the Year for her sporting achievements, VU's highest sporting honour. In 2013, Jacinta won the 54th US Masters Waterski and Wakeboard Tournament and was awarded a VU Outstanding Student Alumni Award.