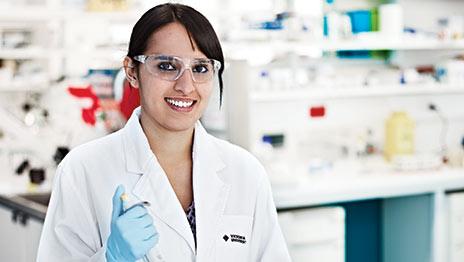 We offer practical laboratory workshops for students studying VCE Biology.
These workshops provide a unique opportunity for students to visit a state-of-the-art teaching and research facility and to use quality research equipment at our Werribee campus. The workshops are directly relevant to topics covered in Unit 4 Biology.
Practical activity: manipulation of DNA
The practical activity provides students with experience in the field of gene technology. Students will be able to carry out an experiment involving the manipulation of the genetic material, DNA. Students will be introduced to the concept of cloning a piece of DNA in a bacterial cell using restriction enzymes and a plasmid vector. This activity will be followed by agarose gel electrophoresis to estimate the approximate size of DNA fragments.
This practical workshop is designed to provide knowledge and skills in gene technology and its application, and may be used as the practical components of school assessment towards Outcome 1 of Unit 4 VCE Biology.
Biology workshop details
When: Wednesdays in Term 3
Time: 9.30am - 11.30am or 12.30pm - 2.30pm
Location: Werribee campus – meet in foyer of Building 2
Cost: Free
Capacity: 20 students/workshop
How to register
Email Tricia Fidler: [email protected].