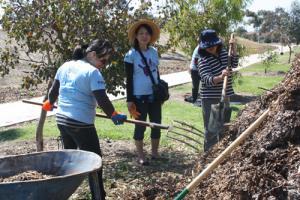 Victoria University held its biggest volunteer project last week when about 250 students and staff took part in 47 local projects as a way to give back to the community.
Deputy Chancellor Di Foggo and Maribyrnong Cr Dina Lynch launched the event before teams of volunteers undertook a variety of projects around Footscray. These included renovating local halls, tutoring students, visiting the elderly, painting community centres, planting trees and sowing vegetable gardens.
The day concluded with tired volunteers celebrating their achievements with refreshments and entertainment in the Footscray Park Campus courtyard. Vice Chancellor Peter Dawkins thanked and congratulated all volunteers and highlighted the importance of community connection.
A huge thank you and congratulations must go to all who took time out of their busy schedules to assist with V4U. A special thank you must also go to Student Leadership, including Liz Mordaunt, Kristi Sudholz and Ronni Friend.