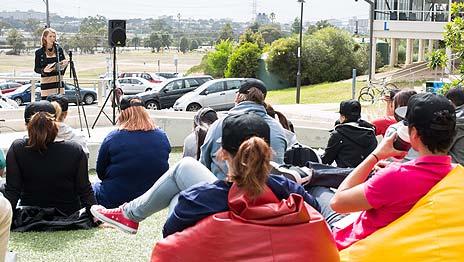 Every second and fourth Wednesday of the month, we're running Toastmaster meetings where you can learn to introduce speakers, conduct meetings and perform a number of other roles that develop skills in communication.
Toastmasters can help you improve your public speaking, presentation and leadership skills in a mutually supportive and positive learning environment.
Toastmasters will give you the skills and confidence you need to effectively express yourself in any situation. Members deliver prepared and impromptu speeches and develop skills related to timekeeping, chairing and facilitating meetings.
Each time you give a prepared speech an evaluator will point out strengths and suggest improvements. Each student will be provided with a senior toastmaster mentor to guide and support them.
By learning to effectively formulate and convey your ideas, you open a world of possibilities. You will be more persuasive and confident whether speaking with your colleagues, your community or your family. Members are assigned one or more roles on any given meeting, which are advised in advance. Each role offers its own challenge, and the roles rotate – so that everybody has an opportunity to have a turn.
Meeting details
Where: Footscray Park Campus, building D, Room D309
When: Every second and fourth Wednesday of the month,from 4-6pm.