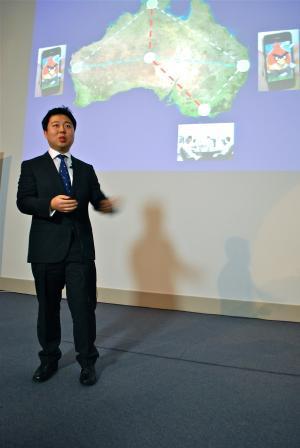 A Victoria University student from Footscray best explained his PhD topic to a non-specialist audience to win a $2000 grand prize and a trip to Perth in the University's second annual 3 Minute Thesis contest.
Geordie Zhang, 28, beat seven other VU finalists in last week's competition, hosted by the University's Office for Post-Graduate Research. The contest invites doctoral candidates to present a compelling and clear oration on their thesis topic to a non-specialist audience in less than three minutes.
Geordie, who studies at VU's Centre for Telecommunications and Microelectronics, explained his research using a theory of economics that prioritises competing uses of broadband communication based on their importance. The most important uses, such as medical operations done by telecommunications in remote areas, get a higher ranking and more network capacity than people playing Angry Birds.
The official name of Geordie's thesis is Adaptive Interference and Intermodulation Cancellation in Cellular Communication Networks.
Geordie will join winners from other universities at the University of Western Australia in late September for a shot at a $5000 first prize in the Australian and New Zealand 3 Minute Thesis finals.