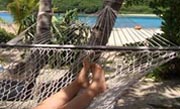 Interested in going on exchange to Fiji in Semester 1, 2010? An exciting opportunity exists for VU students to study at the University of the South Pacific (USP) in Fiji. We will even extend the application closing date to 15 July 2009 to give you more time to lodge your application!
VU will even give you funding to help you get there. There are a large number of Endeavour scholarships worth $5000 to study in Fiji in 2010.
USP is located in Suva and is the premier provider of tertiary education in the Pacific Region. Courses include Community Development, Computer Science, Education, Engineering, Language, Law, Psychology and Tourism. Browse a full list of subjects or find more information including:
Just think, this time next year you could be overseas having an amazing adventure all while getting credit towards your studies at VU.
Need more information? Contact us at [email protected] or call +61 3 9919 1471 or +61 3 9919 1319.