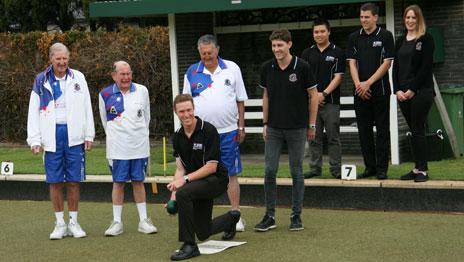 Victoria University sport and recreation management students have assisted 150 sport clubs across the state secure more than $100,000 in local sponsorships as part of their learning in the community.
Students involved in the sport sponsorship program are studying either the Bachelor of Sport Management/Bachelor of Business, or the Bachelor of Sport Management.
The sport sponsorship program requires the students to collaborate with a community club and develop proposals to obtain cash, gifts, or in-kind support from local businesses such as hotels, banks, food outlets or sport equipment suppliers.
Over the past five years, beneficiaries have included the Western Crusaders Gridiron Club, Yarraville Glory Soccer Club, Footscray Baseball Club, Futsal Geelong, and the Maribyrnong Swimming Club.
The clubs often invite the students to activate their sponsorship proposals and become committee board members, enhancing the students' industry experience and expanding their professional networks.
Local sponsors benefit by
getting their logos on team shirts, oval boundary fences, or in clubhouses
getting publicity in club newsletters
cross-promoting with other key sponsors.
"It's win-win-win," said Associate Professor Clare Hanlon of VU's College of Sport and Exercise Science. "About 85 per cent of the clubs activate the proposals our students develop, and on average, each club receives about $4500 in sponsorship. Students gain confidence in their ability to work with managers in sport clubs and this experience increases their employability skills".
Double-degree sport student Jake Mutton said "the sport sponsorship unit is a fantastic opportunity to gain hands-on experience in the industry and local community."
Dhenai Veale, Yarraville Footscray Bowling Club manager said the program benefits small non-profit clubs like theirs, and "gives us the chance to sustain and improve our grounds for the community."
Over the past two years Maribyrnong City Council has formally committed to the program and promotes it to local clubs in its municipality.
Maribyrnong Mayor Grant Miles said "we've already had some great outcomes through this partnership and students have gained valuable on-the-job experience."