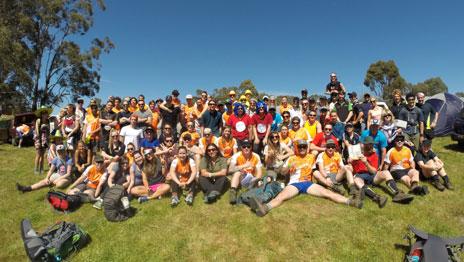 Victoria University students proved to be champions in the grueling and little-known sport of 'rogaining' at the Australasian championships held last weekend in central Victoria.
More than 90 VU Outdoor Recreation and Outdoor Education students took part in the 24- hour event that tested their navigational skills, fitness, endurance, decision-making skills and teamwork. Several VU students took out top awards.
Rogaining (rugged outdoor group activity involving navigation and endurance) is a growing adventure sport in which teams use cross-country navigation to locate checkpoints within a time limit to maximize their scores.
The competition, which drew some 500 entrants from across Australia and New Zealand, was held across 180-square-kilometres of bush land outside Malmsbury, Victoria.
Students receive credit for participating in the event as part of their industry-based Practice Integrated Learning (PIL).
Matthew Cox, a recreation lecturer in the College of Sport and Exercise Science, said the event is a way for his students to consolidate their classroom understanding of topography and their preparedness in the outdoors.
"Our students all participated to a high level in this event, which helps them develop their skills as outdoor recreation professionals," he said.
The results for VU students:
Men's Junior
1st Place – Matt Briscoe, Dylan McFarlane
2nd Place – Joshua Obrien, Brandon Tongpau, Anthony Messerle
3rd Place – Daniel Glasson, Greg Baxter, Stephen Newton
Women's Junior
2nd Place – Sophie Findlay, Alannah Doherty, Kirsten Spiteri
3rd Place – Alexandra Burridge, Elise Cullen
Novice
2nd Place – Rebekah Morris, Marcus Tyrell, James Bourke
3rd Place – Chris James, Miona Jankovic