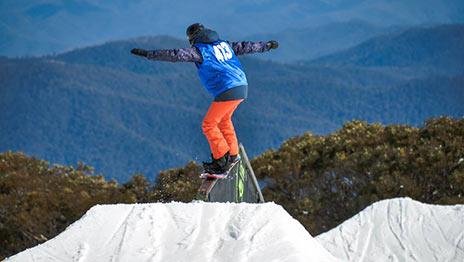 We are looking for students to represent VU at the 2015 Australia Snow Uni Games, from 23-27 August in Thredbo NSW.
The Australian University Championships (AUC) are stand-alone events that give students the opportunity to compete in their chosen sport against universities from around Australia.
Sports
The following sports will be contested at the Snow University Games (this list is subject to change as registrations are finalised closer to the event):
Alpine
Slalom, Giant Slalom, Super G
Snowboard
Slalom, Giant Slalom, Super G, Slopestyle, Rails. Boarder Cross
Freestyle
Moguls, Rails, Slopestyle, Skier Cross
Cross Country
Individual, Relay
Cost
1 - 3 races: $80 per race per competitor
4+ races: $65 per race per competitor
Non Playing Official: $30 per non playing official
How to apply
To participate in the Australian Snow Uni Games or to find out more information please contact the Sports Officer, Wade Spencer at [email protected].