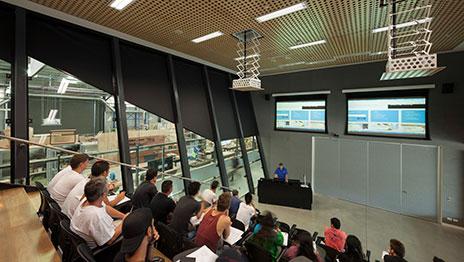 Trades education is entering a new phase. VU's Trades College is expanding the student and industry focus of its blending learning delivery, creating an embedded innovative teaching and learning practice that fosters strong learning outcomes.
Blended learning integrates technology and traditional teaching; the delivery method encourages flexible learning with a repertoire of engaging and powerful technology tools. The program is designed to take theory out of the classroom to deliver a new portal of learning.
While the concept of integrated e-Learning has been promoted at VU for some time, the digital connection in the new Trades Hub at the Sunshine Campus has accelerated the implementation.
As part of the new Sunshine Construction Future project, technology and smart systems have been installed in all the learning areas of this new facility. The high tech classrooms sit beside the workshop areas ensuring a seamless transition in learning from theory to practical.
The e-Learning environment encourages self-paced flexible learning. Students can review and revise lessons at their own pace in their iPhone, iPads or the touchscreens installed in the workshops. Students will be able to play videos of the technique demonstration on demand and as many times as they like without impacting their classmates learning.
"This is an exciting development," says Stephen Varty, Director Innovation and Engagement at the Trades College. "We are offering creative and engaging practical demonstrations, consistently aligned to current industry practice, that students can review anytime and anywhere".
e-Learning provides opportunities for dynamic and responsive approaches to skills development. This creative thinking is being embedded into trades learning. VU research fellow Stefan Schutt has developed video game-style technology for use in the Trades College's Certificate II in Building and Construction. The three-dimensional program, TradeSim, simulates a construction site. The students have to identify workplace hazards using the computer program.
The Trades College technology team is working towards an e-Learning profile for all trades courses.