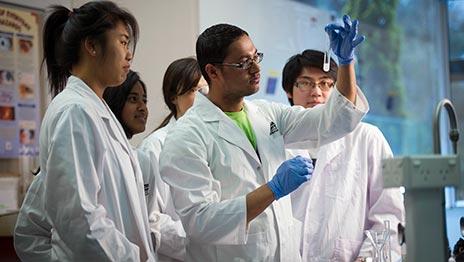 VU is running a 'Be a chemist for a day' program for Year 9 students in the lead up to Science week.
In this program students perform hands-on experiments that illustrate what real chemists do in their jobs. The experiments are designed to engage students via their senses. Students will be able to:
separate dyes in pen inks
make metals emit coloured light
remove oil from bird feathers with a magnet
convert aspirin into Dencorub
generate electricity from lemons
make a chemical clock.
The 'Be a Chemist for a Day Program' aims to inspire Year 9 students so that they better understand the work of scientists and may be encouraged to pursue studies and careers in science.

Be a chemist for a day details
When: 3 – 21 August 2015
Time: 9.30am – 12pm and 12.30pm – 3pm
Location: Footscray Park campus
Cost: Free
Capacity: 20 students/session
How to register
To express your interest in this program, email Dr Raymond Horsley ([email protected]) and copy Dr Domenico Caridi ([email protected]).