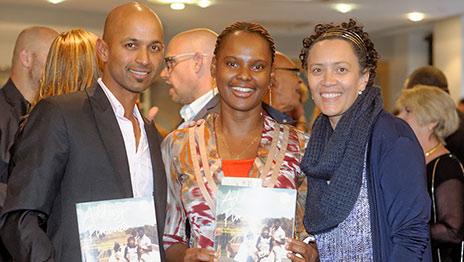 A new book exploring Caribbean migration to Victoria has been launched at VU's City Flinders Campus.
The book, Adding Pimento: Caribbean Migration to Victoria, Australia, was edited by Dr Karina Smith (a Senior Lecturer in VU's College of Arts), Lisa Montague and Pat Thomas, in association with The Caribbean Association of Victoria (CaribVic). It explores the fascinating history of Caribbean (West Indian) migration to Victoria in a collection of short stories.
More than thirty people from the Caribbean community were interviewed for the book and their stories were transcribed and shaped into narratives by the editorial team. Dr Karina Smith wrote an historical overview and Carole Boyce Davies (Professor of English and Africana Studies at Cornell University, USA) wrote the foreword.
The launch was hosted by CaribVic, and was well attended by a wide range of community members and academics. Everyone was entertained by a lively Steel band duo which started off the evening.
Dr Karina Smith hosted the evening, providing a welcome to country message before introducing her co-editors, colleagues, friends, and family members who were attending. Associate Professor Bronwyn Cran, Dean of the College of Arts, gave the opening address which started the formal part of the evening.
The book was launched by Professor Charlotte Williams (Head of Social Work at RMIT and author of Sugar and Slate), who drew out some important themes from the work and identified its unique contributions to the field. Presentations by two contributors to the autobiographies that comprise the text finished the ceremony.
"The speakers really created a wonderful taster of what to expect from the book, and showed the audience how "Adding Pimento" can contribute a unique cultural flavour," Dr Smith said.