Alice Pung previews new novel at Rotunda in the West
This event has already taken place.
Western suburbs favourite, writer Alice Pung, will preview her new novel Laurinda at a very special Rotunda in the West this month.
"Pung makes everything she writes about shine."
– The Australian
The award-winning journalist, teacher and author of Unpolished Gem and Her Father's Daughter will discuss her work with VU's Bruno Lettieri on Thursday 30 October at the VU Bar, Footscray Park campus, from 6.30pm.
About Alice Pung
Alice grew up in Footscray and Braybrook with her Chinese-Cambodian family. Her first book, the acclaimed memoir Unpolished Gem, won the Australian Book Industry Newcomer of the Year award and was shortlisted for the Victorian and NSW Premiers' Literary awards. Her next book, Her Father's Daughter, won the Western Australia Premier's Award for Non-Fiction.
She edited the collection Growing Up Asian and her journalism has appeared in The Age and The Monthly. Alice's books are studied widely in schools, have been published in the US and UK and translated into several languages.
"Alice Pung has written beautifully and evocatively about growing up in the western suburbs. She's a friend of Rotunda; our audience loves her warmth and intellect and I'm excited to be able to talk to her about her new work," said Bruno Lettieri.
Event details
Rotunda in the West: Conversations with Creative Australians featuring Alice Pung will be held at the VU Bar at VU's Footscray Park campus.
Time & date: 6.30pm on Thursday 30 October.
Cost: Tickets are $15 full or $10 concession and are available for purchase at the door.
There will be a musical performance and meals are available.
Rotunda in the West: Conversations with Creative Australians
Rotunda in the West: Conversations with Creative Australians is an innovative series presented by Victoria University's Professional Writing and Editing course.
Previous guests include Nicola Roxon, Father Bob Maguire, Raimond Gaita, Michael Leunig, Kerry Greenwood, John Marsden, Alice Pung, Hannie Rayson, William McInnes and Helen Garner. Guests have also enjoyed poetry readings on a double-decker bus and literary walks in Footscray.
Footscray University Town events
This is one of a range of events & activities brought to you as part of the ongoing Footscray University Town partnership between Maribyrnong City Council and Victoria University.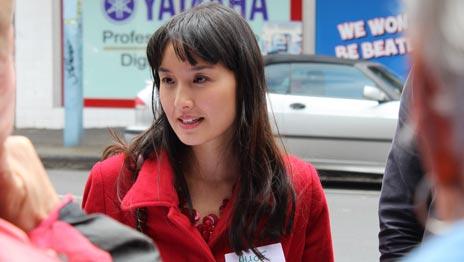 When?
This event has already taken place.
30 October 2014,

6:30pm

to

9:00pm