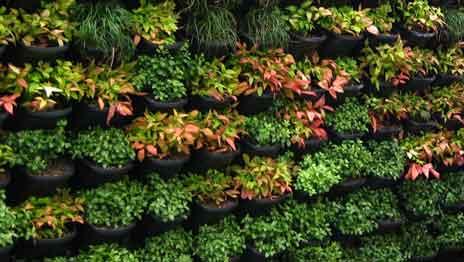 Two primary schools in Melbourne's west will have a green start to the year thanks to a 'living wall' of lush plants built by Victoria University engineering students.
Known also as vertical gardens, walls covered in vegetation are surging in popularity as a way to improve the aesthetics of otherwise boring structures, regulate building temperature, and showcase sustainability practices.
Sponsor City West Water and staff at VU's Institute for Sustainability and Innovation and College of Engineering and Science chose Altona North and Footscray North primary schools for the 'Greening the West' project, based on the schools' existing commitment to sustainability. Each school received approximately $5000 to create their walls.
Two teams of civil engineering students worked on the projects as part of their final year assessments – planning, designing and building the structures, including integrated watering systems.
Project supervisor Ian Campbell, Honorary Fellow at VU's College of Engineering and Science said the students put in many more hours than most for a final-year project.
"It's rare to get the benefit of significant funds to enable final-year projects such as these two walls, where students are able to not only plan and design, but physically build the project," he said.
The Altona North Primary wall is a freestanding structure next to the school and is fed by rainwater collected in a holding tank. The plants can also be enriched with liquefied worm cast nutrients the school prepares and feeds into the holding tank.
The Footscray North wall is attached to a classroom wall, supplying shade and helping to regulate building temperature, with future scope for a rainwater pump system to be installed.
Victoria University engineering students involved in the projects were: Steve Monev, Justin Leaney and Kristina Povolni (Altona North Primary School); and John Tran, Deny Sadik, and Leterim Jeka (Footscray North Primary School).