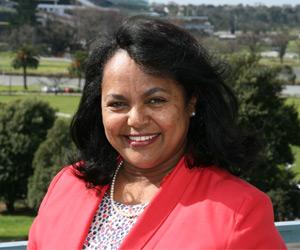 Elleni Bereded-Samuel, VU's Manager of Community Development, was named as one of Australia's 100 Women of Influence at an award ceremony held last month.
Sponsored by the Financial Review and the Westpac Group, the 100 Women of Influence Awards identify women who are helping to change and shape Australia for a vibrant and inclusive future. The women were selected by an eminent judging panel from more than 500 entrants after a national and international call for entries.
The 100 finalists also included prominent businesswomen and active philanthropist, Susan Alberti, who is a director of the VU Foundation.
"It has been a great honour and privilege to be selected from more than 500 extraordinary, talented and inspiring women," said Ms Bereded-Samuel. "The hard work I do really pays off, and that encourages me to do more."
The judges assessed a range of criteria, including a nominee's personal and career achievements, and their mentoring and support for other women.
Since arriving in Australia as a refugee from Ethiopia in 1996, Ms Bereded-Samuel has been an advocate and champion for Victoria's culturally and linguistically diverse communities.
Passionate about empowering migrants to reach their full potential, she started her advocacy journey as a voluntary community development worker, door-knocking to connect with very isolated refugee women and encouraging them into the classroom as a stepping stone to further education.
The same year she arrived in Australia, Ms Bereded-Samuel became the first person from an African background to be employed at Victoria University.
Since then, Ms Bereded-Samuel has acquired a considerable length of credits to her name. Although far too many to list, they include becoming the first Victorian Multicultural Commission Commissioner from African background; serving for six years on the Board of Directors of the Women's Hospital in Melbourne; a recipient of the 2007 B-HERT (Business Higher Education Round Table) Outstanding Community Engagement Inaugural National Award; being selected in 2008 to participate in the Australia 2020 Summit 1000 Best and Brightest to map out a strategy for Australia's long-term future.
Earlier this year at a Celebration of African Australians Gala Dinner at Parliament House in Canberra, Ms Bereded-Samuel was inducted into its Hall of Fame as being 'the most influential African Australian'.
Today Ms Bereded-Samuel is a director of SBS, a director of Western Health and chair of its Cultural Diversity and Community Advisory Committee.