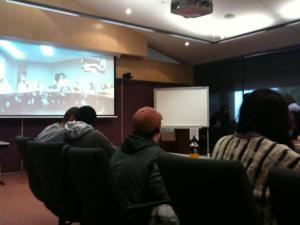 Victoria University and the University of Texas El Paso (UTEP) received an honourable mention in the prestigious 2012 Institute of International Education, Andrew Heiskell awards for innovation in international education.
The VU/UTEP Global Engagement and Learning Program which has led to major innovations in the way both universities operate was recognised in the international partnerships category.
The award recognises the unique commitment that the two universities share in providing an excellent and accessible educational experience for students from culturally diverse and educationally disrupted backgrounds, who are often the first in their families to gain a degree.
The Executive Dean of Victoria University College, Susan Young said: "A global learning community has been established whereby students of both universities study joint subjects, learn about each other's countries, and link up via video conferencing and social networking.
"Because many of the students are from low-income families and need to work to support their studies they are not able to afford exchanges that involve expensive travel arrangements. In addition to this 'virtual' student exchange, for the past two years a number of students from each university have exchanged for one semester to work and learn at the other institution. The Students Working as Staff program provides the funding to cover this international experience.
"Teleconferences, video conferences, and social media communications are held between the VU Student Leadership Council and UTEP student leaders to explore differences and commonalities in student leadership roles at the two universities."
The joint library services have also provided an important link: "Since 2008 the libraries at VU and UTEP have developed a strong relationship of cooperation and shared projects. They have many areas of common interest, in particular the desire to improve the model of integrated educational services at both locations." Susan Young said.
The Andrew Heiskell awards showcase the most innovative and successful models for internationalising campuses with particular emphasis on removing institutional barriers and broadening the base of participation in international teaching and learning.
The Institute of International Education is a world leader in the international exchange of people and ideas. An independent, non-profit organisation the IIE has more than 1,000 member institutions worldwide. The IIE Andrew Heiskell Awards were named for Andrew Heiskell, a former chairman of Time Inc. and a long-time member of the Executive Committee of IIE's Board of Trustees. Mr. Heiskell was a renowned international and cultural philanthropist and a devoted supporter of international education.