Thursday 17 September 2015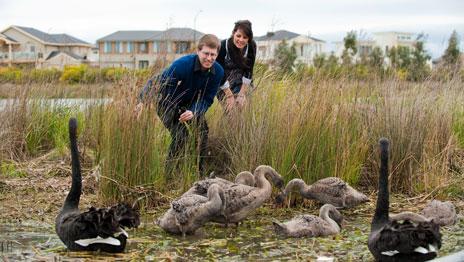 A new website offers our best chance yet to enjoy life without disturbing native birds and wildlife.
Victoria and Deakin University researchers have developed an interactive website that accurately estimates the distance at which Australian birds fearfully respond to humans.
Birds' fear of humans – a potential threat – is known as 'disturbance' and can disrupt feeding, resting and breeding behaviours.
A team of five researchers from Victoria and Deakin universities, along with international collaborators, developed Avian Buffer (www.avianbuffer.com) as a vital interactive tool to reduce our disturbance to wildlife.
The specific information offered on the website is critical for building buffer zones around natural bird habitats.
Lead researchers Randall Robinson and Wouter van Dongen said understanding how birds fear humans enables measures to be put into place to reduce the impact of human disturbance on wildlife.
"One of the key issues we face is how to balance the increasing demand on public open space for humans with the needs of the biodiversity," Dr van Dongen said.
"Fear of humans is an important conservation threat to wildlife that needs to be effectively managed if wildlife and people are to coexist.
"Human disturbance to birds has already led to population declines in Australia's birds, such as our beach-nesting birds."
In extreme cases, birds can permanently leave an area if human disturbance by is too disruptive.
Sightings of some of Australia's most common birds, including those that have inspired folk songs and become mascots of football teams, are decreasing in parts of Australia.
Avian Buffer can be used to construct buffer zones around bird habitats and develop coexistence distances between wildlife and humans in parks.
"The need to balance human recreation with biodiversity conservation is critical due to ever-increasing use of natural areas by humans," Dr van Dongen said.
The website, developed with funding from the Helen Macpherson Smith Trust and Victoria University, covers 250 Australian bird species.
Its data takes into account a range of human-associated stimuli, including pedestrians, pedestrians with dogs, vehicles and bicycles.
Plans are underway to internationalise the tool and increase the range of wildlife it covers.