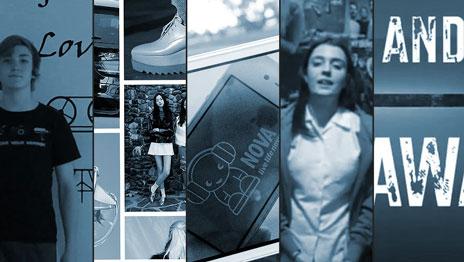 Our second annual Work Experience of a Lifetime competition generated hundreds of entries. Meet the seven lucky Victorian secondary students who won their dream work placement.
VU's 2015 Work Experience of a Lifetime program attracted close to 300 entries from Year 10 and 11 students vying for a placement with some of Australia's top companies. Their schools and communities got behind them with campaigns on social media generating an amazing 12000 shares.
The judging panel had the challenging role of assessing the entries which included creative images, short videos and written statements detailing the students' passion for their chosen industry.
Amy Moore of Mount Eliza Secondary College will work with one of Australia's most iconic brands, BONDS. She'll be immersed in their marketing strategy department and get experience in ecommerce, social management, BTL promotions and publicity.
Dane Heeps from St Joseph's College (Mildura) will head to construction giant Hacer to get hands-on experience in construction management, design coordination and engineering processes.
"I am very passionate about learning how things work and how to design and build things … this opportunity will help me with my future goals of becoming an architectural engineer," says Dane.
Suzanne Cory High School's Melissa Lam will work across HM Group's diverse range of award-wining brands in the design, marketing and publishing industries.
Carlin Stephenson of Brentwood Secondary College will go behind the scenes at global advertising agent Leo Burnett.
Chelsea Large from Bellarine Secondary College will learn the ropes of the music industry at one of Australia's largest and most successful entertainment groups – Mushroom Group.
"I live and breathe live music … I would love to see the work that goes into live music and see the working hive that is the Mushroom Group!" says Chelsea.
Kyle Broomfield from Wallan Secondary College, also the People's Choice winner, will get production experience with Nova Entertainment Group and the Smooth and Nova breakfast shows.
Aspiring hotel manager, Jessica Paterson from Mentone Grammar School will get on-the-job experience with Quest – one of the largest and most successful serviced apartment brands in Australasia.
"Since I was just a child, all I have ever dreamed of was the chance to be an international hotel manager. The tourism industry and business side of the work makes my heart race faster every time I think about it."
We will follow the journey of these inspiring students as they gain experience in organisations that are well beyond the normal networks of most work experience seekers.
Placement winners
BONDS: Amy Moore – Mount Eliza Secondary College
Hacer: Dane Heeps – St Joseph's College
HM Group: Melissa Lam – Suzanne Cory High School
Leo Burnett: Carlin Stephenson – Brentwood Secondary College
Mushroom Group: Chelsea Large – Bellarine Secondary College
Nova Entertainment Group: Kyle Broomfield – Wallan Secondary College
Quest: Jessica Paterson – Mentone Grammar School
People's Choice winner
Kyle Broomfield – Wallan Secondary College