Wednesday 2 September 2015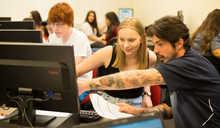 VU has won a national award which recognises educators who are leading the way in blended learning initiatives using the collaborative platform, Brightspace.
D2L, the EdTech company that created Brightspace, presented its 2015 Excellence Awards at the Ignite Asia Pacific (APAC) conference on the Gold Coast on 27 August.
The awards celebrate institutions for their use of Brightspace to deliver learning experiences that are innovative, collaborative, or have made an extraordinary impact on learning outcomes.
"The Brightspace Excellence Award winners have delivered platforms that drive self-paced, catered learning which advances both teachers and students beyond the limits set by traditional education methods," said Marlon Herft, Director Asia Pacific, D2L.
Victoria University is using the Brightspace platform to help elevate student engagement and first-year retention levels. By combining various tools within the Brightspace platform, the University maintains a clear picture of student progress and behaviour. This enables instructors to better support students who may be at risk.