Victoria University has unveiled a 10-metre-long truck custom-made into a state-of-the-art classroom as the latest addition to its VU Community Gateways outreach service.
VU Community Gateways was launched at Highpoint Shopping Centre in Maribyrnong on Wednesday 19 May after six months of a successful pilot in neighbourhood houses, libraries, youth centres and shopping malls.
During the pilot, the service focused on bringing career and course counselling to the community. Counsellors offered free study and employment advice to more than 400 people including career-changers, retirees, the unemployed, migrants and curious shoppers. People interested in training or further education were given information about courses offered not only by VU, but by other universities or trainers.
The truck, the Mobile Gateways Vehicle, now allows the Gateways service to bring mobile training to the community, complete with laptop computers and interactive whiteboards.
VU is one of Australia's only universities to offer these kinds of educational and training outreach services.
The University has forged several partnerships with business, community and government organisations as part of the Gateways project. The GPT Group, managers of Highpoint, have provided VU Community Gateways with six weeks a year of rent-free prime mall space, and the Western Region Westpac Branch Managers Network will display Gateways information in its banks.
Vice-Chancellor Professor Elizabeth Harman said the VU Community Gateways showed the University's commitment to the community.
"It isn't always easy for people to walk across a campus and open a doorway. This is our way of bringing VU into the community," she said.
The VU Community Gateways career counselling booth will be located at Highpoint Shopping Centre from 17- 28 May on Level 2, near Best and Less..
To make an appointment with a Gateways career counsellor call the VU Contact Centre on 9919 6100, visit the website at www.vu.edu.au/future-students/community-gateways or simply drop by the booth at Highpoint. To inquire about truck activities, contact Christine Mountford, Community Gateways Project Manager on 9919 7709.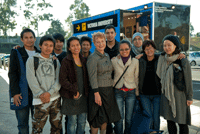 VC Elizabeth Harman with students and Mobile Gateways Vehicle