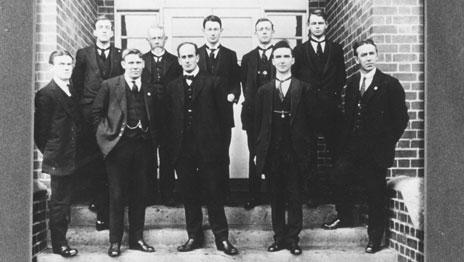 A fascinating exhibition featuring historic memorabilia and artefacts from Victoria University archives has opened at VU at MetroWest, a new hub for the University in the heart of Footscray.
The three-phase exhibition, The Door of Opportunity 1916-2016, is a celebration of the founding of Footscray Technical School in 1916, and the 25th anniversary of VU becoming a university.
The Centenary Exhibition will run over two years and tell the story of VU's founding, from its origins in 1916 as a working man's college through to its current role as an international university.
December 2014 – The first phase focuses on 1916-1947, starting with the opening of Footscray Technical School at VU's present Nicholson Street Campus. This phase also provides insights into early Footscray life and the influence of this new school on the community. The School adopted the image of a 'Door of Opportunity' to express its purpose to offer the region's young men an education that would raise them from the ranks of unskilled labourers.
Mid 2015 – The second phase focuses on 1948-1989. It sees the evolution of Footscray Technical School into Footscray Technical College, then Footscray Institute of Technology, before an amalgamation of several institutions led to VU becoming a University in 1989.
Early 2016 – The third phase will cover 1990-2016, depicting the first 25 years of VU as a university, and its vision for the future. Drawing uncanny parallels with Footscray Technical School's original Door of Opportunity motto a century ago, today's Victoria University proudly inherits the spirit and tradition of its origins while proudly looking forward to its aim to become a great University of the 21st century.
The exhibition is not intended to be a linear history of teaching and learning in VU's many predecessor institutions, but rather highlight the role these organisations have played in shaping and supporting the community.
The Centenary Exhibition is free and open to the public.
VU at MetroWest is located at 138 Nicholson Street, Footscray.
Opening hours are Monday – Friday 8am – 6pm and Saturday 9am – 2pm.