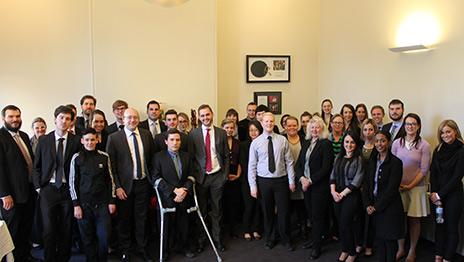 Law students recently gained access to industry giants at a lunch organised through VU's Supreme Court Internship Program.
As part of the program, the students were treated to a lunch attended by legal practitioners from across the legal profession. Guests included:
Ben Winford, Corrs Chambers Westgarth
Justin Wheelan, Barrister (Victorian Bar)
Meghan Fitzgerald, Fitzroy Legal Service
Michael Williams and John Maloney, Associates to The Honourable Justice Maxwell, President of the Court of Appeal
Julia Watson, Solicitor
Michael Stanton, Barrister and Vice President of Liberty Victoria
Alex James-Martin, Solicitor, Herbert Smith Freehills
Lucy Maxwell, Solicitor, Victorian Government Solicitor's Office.
The lunch provided students with the opportunity to hear from and discuss with the legal industry practitioners their professional journey and life experiences. It was also an excellent opportunity to network in general and develop vital industry connections that will be a stepping stone in their future legal career.
"I found the industry lunch fantastic and the fact that we were able to freely chat to those in the industry. There was somebody in almost every area of the law present at the lunch, so we all could approach the person who appealed to our goals the most, which I found very beneficial." (Student feedback)
The Supreme Court Internship Program ('SCIP') began in 2013 as a joint initiative of Victoria University's College of Law and Justice and the Supreme Court. It consists of lectures by sitting judges, and behind-the-scenes tours of the Supreme Court library, the Registry and historical sites within the court building.
"The best part of the program was the briefing sessions we had with the judges before and after each case we heard, in addition to the network lunch." (Student feedback)
On completion of the program, students have a practical and detailed understanding of the appeal process in Victoria, including the role of oral and written advocacy, interpretation of statutes and common law and the various grounds on which appeals may arise.
For more information about the program, please contact the program coordinator Nussen Ainsworth by phoning +61 3 9919 1894 or email [email protected].
Discover how you can get involved - preference law at VU for study in 2015!