Wednesday 13 October 2010
The
Bachelor of Business (Event Management)
specialises in education and training for the booming events industry, which contributes billions of dollars a year to the Australian economy. VU has been at the forefront of education, training and research in event management for more than a decade. The award recognises its expertise and consolidates its position as a national leader in its field.
"Australia has cemented its international reputation as a leader in event management with the success of the 2000 Sydney Olympics and the 2006 Commonwealth Games," said Associate Professor Anne-Marie Hede, acting head of VU's School of Hospitality, Tourism and Marketing. "The award recognises the expertise of the teaching and research we do in event management, and highlights how these connect with the career success of our graduates."
VU event management graduates are some of the most sought after in the world, she said. They complete a minimum of 150 hours of paid or volunteer industry placements during their four-year course, with a variety of opportunities available in Melbourne's full calendar of sport, cultural and community events, or further afield.
"Our students generally work on a couple of events in Melbourne, and have often found themselves not long after working overseas in events in places like Doha, London or Singapore," she said.
The degree comprises seven core business subjects, seven elective subjects, and seven specialisation subjects that focus on areas such as event design, marketing, business, research, and creativity. Compulsory industry placements are undertaken either full-time for one year or through 150 hours of event-related work, often linked to VU's innovative approach to assessment: Learning in the Workplace and Community. Students can also combine event management studies with other specialisations such as marketing, music industry, law or sports administration.
Event Management Senior Lecturer Dr Leonie Lockstone nominated the course for the award with her colleagues, Martin Robertson and Olga Junek.
"This recognition is a credit to the excellent work being directed towards the quality and innovations in our school and the
Faculty of Business and Law
," Associate Professor Hede said.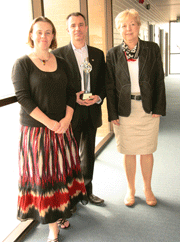 Leonie Lockstone, Martin Robertson, Olga Junek