Thursday 10 December 2015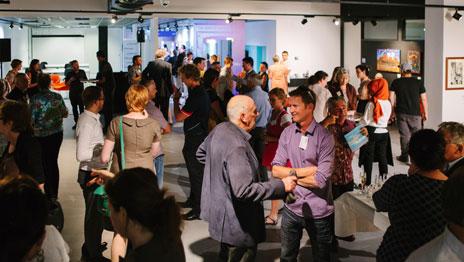 VU at MetroWest has much to celebrate in its first year of operation.
Since its doors opened as a community hub in the heart of Footscray in December 2014, it has welcomed more than 25,000 visitors and hosted more than 400 Victoria University, industry and community meetings and events.
These have ranged from the very popular 'Game Changers Conversations' featuring the likes of Illasayah Shabazz, the daughter of Malcom X, to former politician turned public intellectual Barry Jones.
It has also supported more than 60 local residents find a pathway into education through its course information and enrolment support services.
MetroWest has hosted many other remarkable programs during the year including:
Dreamseed Mentorship program - A collaboration of two far-sighted community organisations, Africa Media Australia and African Professionals of Australia, the Dreamseed Project provides 10 African university students with mentoring toward a professional career.
Crafternoons and Craft Market – Monthly crafternoons were held on Saturdays culminating in two craft markets which raised almost $10,000 for the Asylum Seekers Resource Centre (ASRC) to continue its work.
Exhibitions –Twelve exhibitions were staged during the year showcasing the work of students and local and international artists. This included the very popular If these Walls Could Talk display featuring VU specialist make up students expressing the issue of domestic violence through body painting.
Engagement with Festivals – VU at MetroWest engaged with several festivals to host events and curate programs including:

Business Festival
Seniors Festival
Emerge in the West (Multicultural festival)
Big West Festival
Melbourne Writers Festival

Community Events – VU at MetroWest has partnered with many local organisations to present and support community events and celebrations. These partners included:

Women's Health West
Western Bulldogs – Sons of the West Program
African Australian Student Association
Multicultural Arts Victoria
Creative Victoria
City West Water
State Trustees
Asylum Seekers Resource Centre
Maribyrnong City Council
VU at MetroWest is part of Footscray University Town, a 10-year joint project with Maribyrnong City Council that started in 2014 to revitalise Footscray and deliver long-lasting benefits to residents, traders, workers and to VU students and staff.