Thirty four years later, Victoria University (VU) is continuing its support for Timor-Leste through a range of teaching programs and through the dedicated East Timor Scholarship Fund.
For VU, sponsorship of the opening night of the Melbourne International Film Festival (MIFF) where 'Balibo' premieres provides a fitting link to its own association with Timor-Leste. Before East Timor's independence, VU supported the development of its most precious resource - its intellectual infrastructure.
Ros Casey, Director of Development at VU hopes the Scholarship Fund continues the intellectual growth of Timor-Leste.
"The Scholarship focuses on maximising educational opportunities for Timor-Leste students, particularly those that will make an immediate and significant contribution to the development of their newly independent nation," says Casey.
With four Scholarships awarded to date, the benefits are already apparent. In 2006, Ismenio Martins da Silva became the second recipient of a Victoria University East Timor Scholarship, studying a Masters in Asia-Pacific Studies - Community Development.
"East Timor needs people who have skills, people who can share their knowledge with others," says da Silva. "I needed to learn more so I could go back and help my people."
Upon completion of his course, da Silva returned home to continue development work and to teach community development at the National University of Timor Loro Sa'e. His expertise and passion for change were quickly discovered and he was soon offered the role of Principal Advisor in the Department of Vocational Training and Employment within the East Timor Ministry of Labour and Reinsertion.
"My only dream is to work with communities," da Silva says. "I feel like I'm the luckiest person to come to VU and study. The degree is only valuable if it helps people become more confident in their society. I want to help build my country."
To be eligible to receive an East Timor Scholarship, a student must have gained entry into one of Victoria University's courses through the normal channels, including provision for Recognition of Prior Learning. The student also must have a fee waiver from the Faculty in which they wish to enrol.
Scholarship recipients receive approximately $30,000 per annum for the duration of their course. This covers return airfares, living and incidental expenses while VU covers tuition fees. With approximately $100,000 raised so far, the Fund desperately needs more support to ensure its longevity.
"To date, fundraising has been relatively modest with support coming from individual staff members, the Pratt Foundation and VU itself but we do need more support," Casey says. "We're trying to set the scholarships up on a sustainable basis. To maintain the scholarship in perpetuity, we would like to raise $1.5 million over the next two years. This would allow us to offer two Scholarships a year for the foreseeable future."
By sponsoring the opening night of the MIFF, VU hopes it will not only raise awareness about the fate of the Balibo five and citizens of Timor-Leste, but also raise money for the Fund:
"The world premiere of Balibo provides a wonderful opportunity to showcase the East-Timor Scholarships and VU's long standing support for Timor-Leste. Ticket holders will each receive a donation envelope and VU staff will be on hand on the night to accept any further donations," Casey says.
The 2009 Melbourne International Film Festival, 'Balibo' premiere, is on Friday 24 July 2009.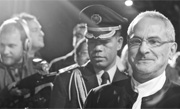 Jose Ramos-Horta at MIFF