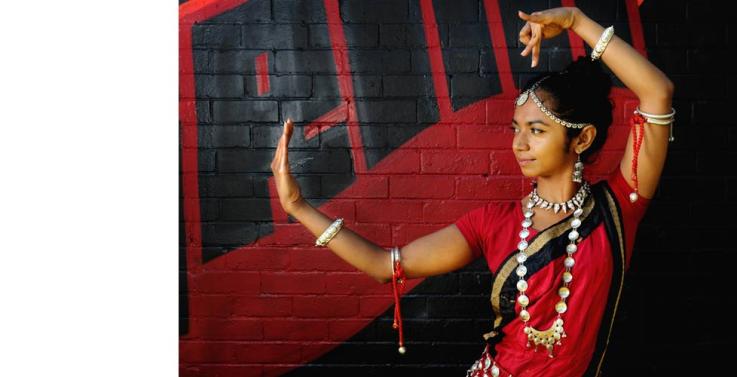 A Victoria University student who breaks down cultural barriers through performance and art was recognised with a 2014 State Government multicultural excellence award.
Sahida (Ee'da) Ibrahim, creative arts student, musician, dancer, spoken-word artist, arts educator and founder and creative director of a music and arts collective called 'Sisters for Sisters' has an undeniable passion for people and culture.
As a Singaporean with an Indian father and a Malaysian mother, Sahida came to Melbourne in 2009 to immerse herself in the city's multicultural mishmash and explore its many opportunities for performance and art.
"My interest in building bridges between communities comes from my own experience making sense of my own identity," she said.
She now teaches programs about cultural awareness through the social enterprise Cultural Infusion, using the medium of Bollywood dance to engage school children around Victoria.
In addition, she works in local council projects in Maribyrnong and Hume to engage young people, helps women discover their inner creativity, and volunteers to entertain the disadvantaged, including asylum seekers in detention.
Sahida was recently selected along with other important Australian arts educators and practitioners to participate in the New York Arts' Management Tour, 'Bite the Big Apple' earlier this year.
"It was amazing to be able to pick the brains and have networking opportunities with all kinds of inspirational people from around the world," she said.
Her major focus of late is the Sisters for Sisters movement, a "heart-centred operation" she created in 2011. The collection of female artists, musicians and other performers from many cultures participate in ad hoc events she calls 'episodes' designed to inspire and connect participants, as well as raise awareness about a selected issue. The most recent was men's suicide and depression.
"Artists tend to feel more deeply and are more affected by the world's plights," she said. "We meet when something needs to happen."