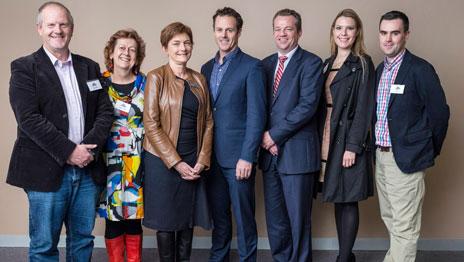 Victoria University's third annual Postgraduate Communication Conference, Communication and the Digital Environment provided a top line-up of speakers hosted by the College of Arts.
Keynote presenter and VU alumnus John Thompson, managing director of the Victorian Government's media team, Mitchell and Partners, shared his insights on the changing communications landscape.
He noted that as media channels evolve, the future communications industry will use tools that are not yet developed, so those involved in the business will need to constantly up-skill. A 24-hour news cycle with an insatiable desire for content is part of the new PR environment, so communications professionals need a smart strategy that explores new opportunities and commercial potential. Communications professionals also need to grasp how to integrate old and new media.
Experts from several other universities contributed to a panel discussion Research and the Digital Communication Environment. From public relations, activism, social media and trolling, the discussions gave attendees the opportunity to review the professional and personal responsibilities that come with the digital age.
Panellists shared their professional wisdom with the next generation of communications specialists:
Find something you love doing.
Follow your passion and you will achieve work-life harmony.
Get your foot in the door and when it's your chance to shine, deliver and over-deliver.
Don't be afraid to ask questions, step outside your comfort zone, and take risks.
Invest time in networking.
Make the most of opportunities to meet key players in the industry.
It's good to be better, it's better to be different.
Plan your career, your professional life and your professional development.
Keep thinking how you can do better and be more efficient.
VU's communications courses are well received by employers for being industry-relevant and theoretically informed. Learn more about our range of undergraduate and postgraduate communication courses.