Wednesday 23 September 2015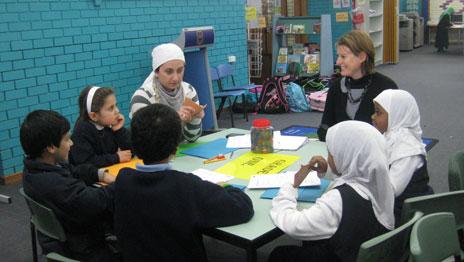 Victoria University preservice teachers are helping young migrant and refugee students with their school work in a program recently recognised for a State Government award.
The program allows VU preservice teachers to develop their practical skills and knowledge by volunteering to support students at East Preston Islamic College (EPIC) with their literacy and numeracy after school.
It recently received the Centre for Multicultural Youth's 'My Education' award for its outstanding contribution to the education of migrant and refugee young people in Victoria from State Deputy Premier and Minister for Education James Merlino.
EPIC Head of Teaching & Learning Shanthi Antony said the contribution of VU students as volunteer tutors has been very significant since the program began in 2011.
"The program lets VU and EPIC hold hands to support migrant children and provides opportunities for pre-service teachers to extend their university training through valuable experiences," she said.
As part of the program, the VU preservice teachers work in teams with EPIC classroom teachers to plan an Applied Curriculum Project. This year, the VU students compiled handbooks related to literacy, numeracy, English as an Additional Language, and personal wellbeing for students in EPIC's Out of School Hours Learning Support Program.
The published handbooks will soon be presented to the school community at a school assembly.
In previous years, VU preservice teachers have collaborated with EPIC to:
organise workshops for parents to develop their computer skills
help students with a vegetable garden and cooking program
help teachers use Wikis to keep in touch with students at home.
Director of Learning and Teaching in VU's College of Education Associate Professor Bill Eckersley said the award is a testament to the quality of the work that EPIC teachers, VU preservice teachers and Ms Antony have collaborated on to help many young children.