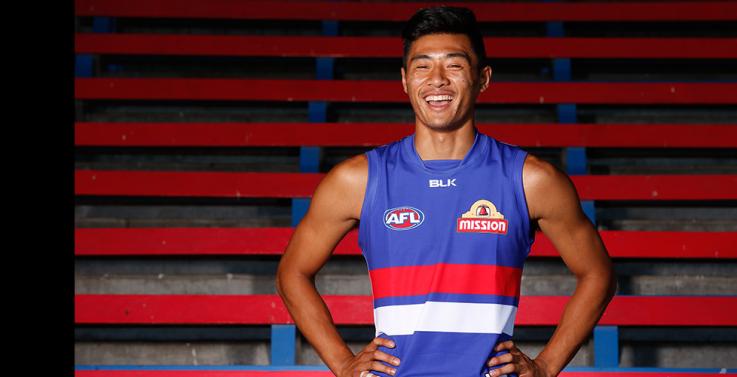 As a partner of the Western Bulldogs, Victoria University (VU) is pleased to be sponsoring the Western Bulldogs v Port Adelaide game this Saturday 8 August at Etihad Stadium for the AFL Multicultural Round.
Now in its fourth year, the Multicultural Round is a themed round aimed at highlighting and celebrating the game's diversity at all levels – from fans to players.
In this video, Lin Jong, East Timorese/Taiwanese Western Bulldogs player and AFL Multicultural Ambassador, highlights the importance of the Multicultural Round. The Round aims to empower the next generation of culturally diverse footballers. Supporters will watch the video on the big screen at Etihad Stadium on Saturday.
For the first time this year the AFL has aligned each stadium with a nation representing one of the top languages (other than English) spoken at home in Australia. China is the focus nation for Etihad. A bilingual Sherrin match ball, LED signage and grass signage translated into Chinese are just some of the features planned for the multicultural celebration.
Victoria University has collaborated with the Western Bulldogs to provide Chinese lion dancers for the pre-game entertainment and a special performance from the Voices Without Borders choir. This new choral group is made up of asylum seeker clients of settlement agency AMES and led by choirmaster and founder of the Choir of Hard Knocks, Dr Jonathon Welch (AM).
VU international students, family, visiting Chinese partners and community members will form the Guard of Honour on the field as players run out and will be seated with other community groups in the Bulldogs Backyard behind the cheer squad.
The VU sponsored Multicultural Round game coincides with our Multicultural Festival on campus which creates awareness around the large variety of cultures we have at the University. Activities include a Lunch Hop through Footscray, a multicultural Scavenger Hunt and festival days with Cultural Home and Country Stalls.