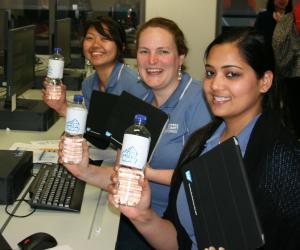 VU yesterday hosted the annual SAP-sponsored University Supply Chain Game for the fifth consecutive year. This one-of-a-kind event is leading the way in education for supply chain students the world over.
Practical experience
Student teams from five universities (VU, Deakin, RMIT, Monash and Swinburne) competed in the problem-based learning activity which tasked them with managing a fictional bottled water company in a simulated business environment.
The winning team from VU consisted of three talented international students, The Su Su Soe from Myanmar, Joke Krekels from Belgium and Punjabi student, Shivali Aggarwal.
As the students developed a business plan to manage all aspects of supply – from raw materials, marketing, pricing the products and tracking orders through to financial outcomes – they were forced to gain a hands-on understanding of crucial decisions in a real-world supply chain scenario.
Industry connected
The event also connected students with industry representatives from leading Australian companies with each team being assigned a volunteer mentor.
This year all students and mentors were female to promote the achievement of women working in the supply chain and logistics industry. VU's Professor Pat Drake opened the event which included mentors Tania Matthews (State Manager, Coles, Victoria), Melanee Smith (National WHS/Compliance & Quality Manager, Government & Defence), Thuy Nguyen (Business Improvement Engineer, FMCG), and Belinda MacDermid (Manager Transport Analytics Team, Linfox).
State-of-the-art learning
The students interacted with suppliers, customers and internal groups using standard SAP reports and dashboards to execute business decisions, develop teamwork skills and gain valuable practical experience in adopting software into the supply chain process to increase productivity within a workforce.
The SAP software used by the students is the latest version which is yet to be made available to most Australian companies.