A flamboyant garment fashioned from fabric scraps won two Victoria University students a top prize in the world's biggest wearable art contest.
Sarah Seahorse and Luna Aquatica combine their studies with a love of costumes. They concocted The Stitch Witch over hundreds of hours from lycra scraps and plastic buttons in their shared art studio.
Their entry won the Australia and Pacific category of the annual World of WearableArt (WOW) awards held in New Zealand last month, and a cash prize of NZ$5000 for the two designers.
Created in 1987, the annual WOW contest draws some 500 international designers and a 50,000-member audience for an elaborate showcase of fashion, design, theatre and dance.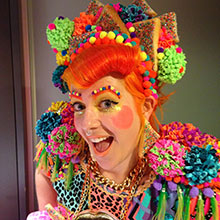 "This was on the top of my life-achievement goals," said Sarah, a first-year community development student and part-time costume designer with organisations such as Circus Oz and the Australian Ballet.
The women put the Wellington-based contest on their bucket list after meeting at a festival more than 10 years ago, said Luna.
Entrants come from all over the world but only about 100 finalists make it on stage for the two-hour spectacular presentation that features professional models, choreography and sophisticated staging. The WOW organisation has produced a YouTube video of highlights from the competition and The Stitch Witch appears at 2:05.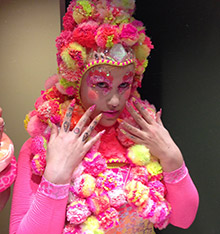 For the awards night, Sarah and Luna adorned themselves in handmade head-to-toe patchwork and pom-pom costumes of recycled scrap fabrics. They said they were shocked to make it to the finals, and even more amazed by the win.
"We had a good feeling but as first-time entrants we were just happy to be involved," said Luna, a third-year youth work student.
The women say they enjoy using their theatre and fashion backgrounds in their new roles as university students. Their radical self-expression, which includes coloured hair and innovative clothing, has made them well recognised around campus.
"I was feeling uninspired and a little burned out creatively before I enrolled at Victoria University," said Sarah. "Now we are both expanding our interests and careers by using our skills to learn how to strengthen communities."
The Stitch Witch is now part of WOW's permanent exhibition collection in New Zealand.