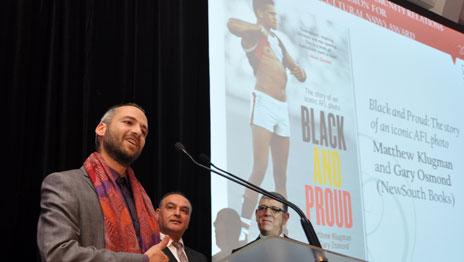 Sport historian Matthew Klugman has won a $20,000 NSW Premier's Literary Award.
Dr Klugman of the Institute of Sport, Exercise and Active Living, co-authored the book, Black and Proud, the story behind one of Australia's most iconic images.
On 17 April 1993, the Indigenous AFL footballer Nicky Winmar stood up against racial abuse and made history. Facing the Collingwood crowd that had taunted him all day the St Kilda player pulled up his shirt, pointed to his chest and declared: 'I'm black and I'm proud to be black'.
Published the next day, the photos of Winmar's gesture sparked an intense debate that forced the AFL, the fans and the nation to confront their prejudices head-on.
The book takes the reader behind the searing image to the stories of those who made it happen – the Indigenous team-mates Nicky Winmar and Gilbert McAdam and the two photographers, Wayne Ludbey and John Feder.
Bound by a love of the game, the four were brought together by acts of courage and vilification that show how far we have come and just how far we have to go.
The judges said Dr Klugman, and his co-author and Gary Osmond, used the photo as a stepping stone to explore racism, both in sport and in the community, and the way it has been challenged by Indigenous Australians.
"The authors have succeeded in writing a book that focuses on the world of AFL while remaining accessible to a general audience. Even those with little or no interest in football will be captivated by the story of resistance, power, pride and triumph that unfolds."
The awards celebrate achievement by Australian writers and help establish values and standards in Australian literature.
Dr Klugman received his award from Hakan Harman, CEO Multicultural NSW, and John Ajaka, NSW Minister for Multiculturalism.