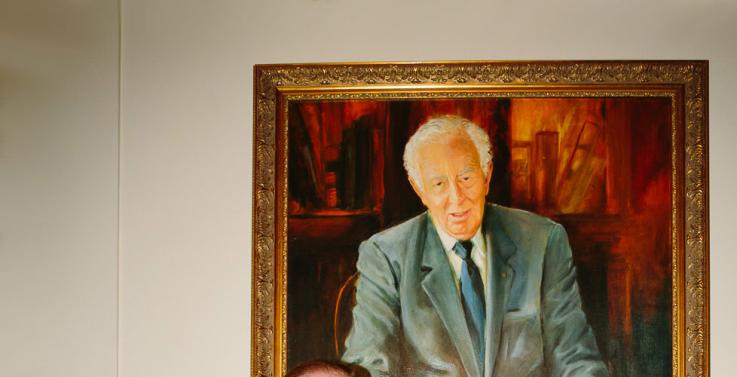 Late Governor General Sir Zelman Cowen's contribution to founding Australia's strong legal and Jewish communities was honoured in a portrait at the VU law centre that carries his name.
The portrait was unveiled Monday 23 March at the Sir Zelman Cowen Centre (SZCC) by Linda Dessau, who will become Victoria's first female Governor from July.
Sir Zelman was an early mentor to Ms Dessau, who has contributed significantly to Melbourne's legal and arts communities as a family court judge and Trustee of the National Gallery of Victoria.
SZCC Chair and a former Australian Attorney General, The Hon Nicola Roxon said the portrait is an added motivation for the Centre to improve upon the work of its namesake.
"Sir Zelman's belief was that lawyers needed to better understand community issues, while the community needed to better understand the law," Ms Roxon explained.
"This is exactly where the Centre positions itself in providing quality legal training and research, so we hope to build upon Sir Zelman's achievements to support our community today," she said.
The SZCC provides training, research and support to government, judiciary, legal practitioners, court staff and other professions associated with the legal sector. As well as delivering post-graduate and further training courses, the Centre produces commissioned research projects to enhance the sector.
Sir Zelman's portrait was painted by famed Italian-born artist Anna Minardo, whose works have been commissioned by the Vatican and shortlisted for the Archibald Prize. The purchase was made possible by a generous donation from philanthropists John and Pauline Gandel.
Minardo's portrait of Sir Zelman hangs in the turn-of-the-century building that houses the Centre in Melbourne's CBD.
Sir Zelman's widow, Lady Anna Cowen and her family, Rabbi Shimon Cowen, Israel Cowen and Kate Cowen attended the unveiling.