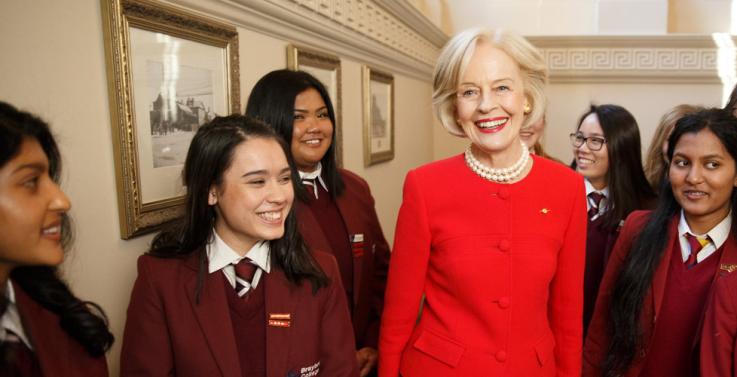 Over 180 Victorian senior high school girls packed into the Sir Zelman Cowen Centre at VU last night to quiz The Hon. Dame Quentin Bryce.
The Young Women and Leadership Q&A was part of a lecture series honouring past and current Governors-General. This unique event offered girls, many from Melbourne's West, the opportunity to meet one of Australia's most interesting public figures and ask about her time as Governor-General as well as seek her advice on female leadership.
Students vied for a place at the event by writing up to 150 words identifying the issues they would advocate if they were Governor-General for a week, as well as drafting a question to ask Ms Bryce.
The students interests were varied – gender equality (including pay equity), other forms of inequality – Indigenous, racial, and economic – as well as same sex marriage, domestic violence and the GST on pads and tampons.
Amaal Osman from Gilmore College for Girls, who has suffered racism on public transport, asked Quentin Bryce how she perceives the views of the community in relation to Muslims. Madeleine McLeod from Ave Maria College, the only female in her cricket team, asked "How do I become the cricketer, not the girl?"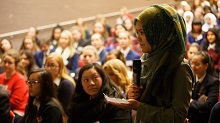 "Quentin Bryce has broken through many of the barriers for women leaders and brings her unique perspective to this interactive discussion. As VU is the 'University of Opportunity', this is exactly the sort of event we're proud to host at the College of Law and Justice, Queen Street campus," said former Attorney-General, Nicola Roxon, an adjunct professor and Chair of the Sir Zelman Cowen Centre who chaired the Q&A.
In 2014, the Sir Zelman Cowen Centre hosted orations by former Governors-General Right Reverend the Honourable Dr Peter Hollingworth and Major General the Honourable Michael Jeffery. Later this year, His Excellency General the Honourable Sir Peter Cosgrove, Australia's current Governor-General, will also present an oration.