Carla Battaglia, a nutritional therapist at VU's St Albans Campus, is conducting an eight-week study to see if participants will modify their choices on breads, breakfast cereals, and biscuits once they learn how much salt and saturated fat they contain.
Participants will use mobile phone cameras linked to a database of nutritional information, and also keep food diaries.
"Many people find it difficult to make the correct dietary choices to help prevent or even reduce high blood pressure," she said.
"Enabling people to scan food products in the supermarket to get nutritional information related to their requirements can help them make an informed health choice prior to purchasing."
Overweight men and women between the ages of 40 and 60 concerned about high blood pressure are invited to participate in the study.
The technology for the project was developed by GS1 Australia, and international software companies, Acratus and Qsn Technologies.
Contact:
Carla Battaglia, Nutritional Therapist, Victoria University
Mob: 0401 190 221 or [email protected]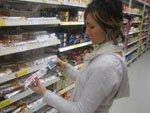 Carla Battaglia