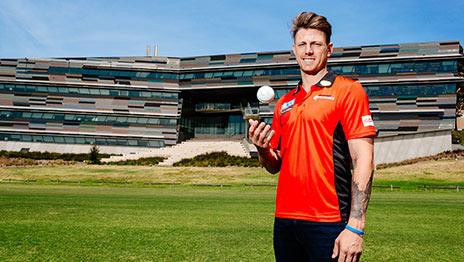 City of Maribyrnong residents: get ready for T20 cricket excitement as the Melbourne Renegades head to Footscray's Merv Hughes Oval in December for the club's official practice match and Family Day.
Victoria University has partnered with Active Maribyrnong, a Maribyrnong City Council initiative, to support the Melbourne Renegades as they square-off against the Bartercard Victoria Premier All Stars in the action-packed format in preparation for their upcoming KFC T20 Big Bash League campaign at Etihad Stadium Melbourne.
"Victoria University, as Australia's leading sport university, is excited to be supporting the Melbourne Renegades practice match," said Victoria University's Vice-Chancellor, Peter Dawkins. "We are committed to supporting community sport through to elite sport and welcome the opportunity to have some of Australia's best cricket players and international stars here at Footscray."
"We've had fantastic support and enthusiasm from the City of Maribyrnong and Victoria University to have a taste of T20 cricket in their backyard and we'll bring the Melbourne Renegades brand of excitement to Footscray. Grab your friends and family and see the likes of Aaron Finch, Matthew Wade and James Pattinson in the flesh at Merv Hughes Oval," said Melbourne Renegades Chief Executive Stuart Coventry.
"This is the first time a T20 practice match has been played in the City of Maribyrnong. Council is thrilled that this partnership with the Melbourne Renegades and Victoria University has come to fruition for the benefit of our whole community," Coventry said.
The Melbourne Renegades Practice Match and Family Day will be held from 11am til 3pm on 14 December at Merv Hughes Oval, Farnsworth Avenue, Footscray.
Bring your family and friends to watch these Aussie heroes in action!