Wednesday 9 September 2015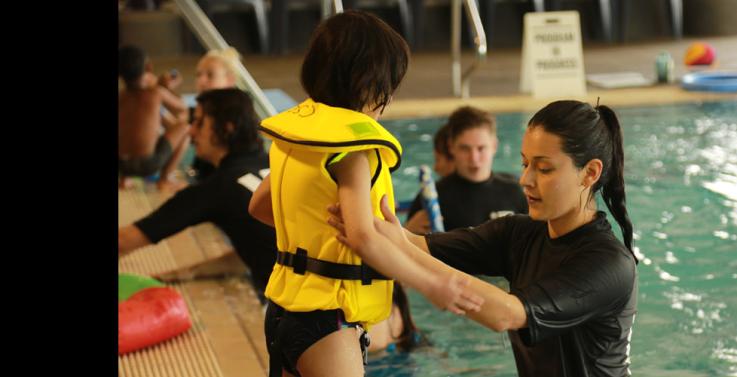 A Victoria University program that teaches water safety to migrant children who have never learned to swim has received an RACV Community Foundation grant of close to $20,000.
The funds have been used to buy first-time swimwear, towels, goggles, and swimming equipment for the children – all students at the Western English Language School (WELS) based in Braybrook – as well as to pay for bus trips to VU's Footscray Park pool.
The children, aged six to 12, are migrants, refugees or detention-centre residents who have recently arrived from countries including Burma (Myanmar), Vietnam, Sudan, Iran, China, Sri Lanka and Lebanon.
They have little or no experience around water and are now living in a country where learned water skills can mean the difference between life and death.
In the past, many of the children participated by swimming in underwear or ill-fitting, second-hand bathers, sharing towels, and borrowing goggles from VU.
RACV Community Foundation Manager Shane Austin said the Foundation is delighted to support an important program that helps enhance social cohesion and provides opportunities to individuals and families to stay safe.
VU's Bachelor of Sport Science (Physical Education) students training to qualify as swim instructors and lifeguards teach the children one-on-one in weekly sessions as part of their community engagement and learning.
Loretta Konjarski of VU's College of Sport and Exercise Science said the project is win-win since it provides invaluable water safety competence to the young children while VU students develop cross-cultural communication skills and more.
"The program gets our students out of their own comfort zones and helps them better understand humanity by realising how little some people have," she said.
WELS Outreach Coordinator Anne Dawes said putting newly arrived children in a challenging physical environment has a huge impact on their English-language learning.
"The program builds confidence in all aspects of their life for a great start in life in Australia," she said.
About 200 children a year have completed the five-week program since it was first developed about seven years ago to teach Sudanese teenagers to swim.