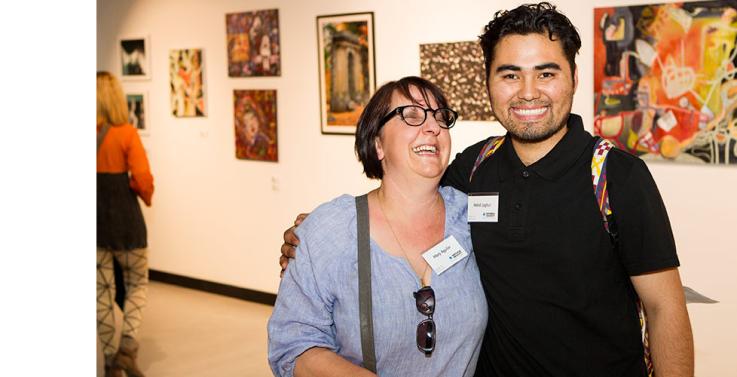 Connect 14, the fourth biennial alumni art exhibition was officially opened on Monday 1 December at the new VU at MetroWest Hub in the centre of Footscray.
The Connect 14 exhibition features the inspiring and creative works of Victoria University's emerging and established Visual Arts Alumni, current and former staff and students. The opening night was well attended and many artworks were sold.
Two acquisitive prizes were awarded to works by Alumni Tony Senese and Ros Beer. Tony's work, 'Eyes on Olga' was inspired by a trip to the Olgas (Kata Tjuta) in 1989 organised by the Visual Arts Department of Footscray TAFE (A VU predecessor) where Tony was studying at the time.
Visit the exhibition
Come along and be inspired by the Connect 14 exhibition.
The exhibition is open between 10am and 5pm Mon-Fri and 10am-2pm Sat until 12 December at VU at MetroWest, 138 Nicholson Street Footscray, as part of Footscray University Town. Footscray University Town is an ongoing partnership between Victoria University and Maribyrnong City Council to revitalise Footscray.