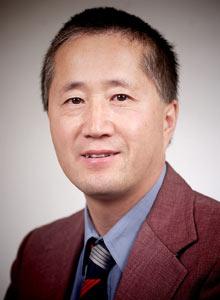 Electrical Engineering expert Professor Peng Shi has been recognised as one of the world's leading researchers in the Thomas Reuters new list of Highly Cited Researchers 2014.
This prestigious Highly Cited Researchers represents some of the world's leading scientific minds. Over three thousand researchers earned the distinction by writing the greatest numbers of reports officially designated by Essential Science Indicators℠ as Highly Cited Papers—ranking among the top 1% most cited for their subject field and year of publication, earning them the mark of exceptional impact.
Professor Peng Shi's work is most highly cited in Electrical and Electronic Engineering, as well as some work in applied mathematics and computational and intelligent systems.
Shi was surprised yet delighted to receive a Highly Cited award.
Receiving this prestigious award is gratifying in recognition of my research efforts. To be informed that this award is only given to researchers who have made an 'exceptional impact' in their field makes the award itself, exceptional. Being regarded by distinguished professionals and peers on a global scale is a distinct honour and an esteemed privilege.

Knowing that my research in wireless communication services, microelectronics systems, optics and photonics, communications and sensor technologies are regarded by my peers, whilst influencing and inciting new ideas and innovations is very satisfying.
Professor Shi is currently fostering his passion for automation, control system design, optimisation and network systems by developing new protocols and algorithms for co-operative control systems and network control systems. Both research topics have broad applications in smart grade power systems, unmanned vessels, wireless systems as well as robotics and communications systems. Other practical uses include traffic control, and manufacturing systems.
Professor Shi said VU has provided him with the facilities and positive learning environment to research productively and efficiently in this field.
Akin to my research, collaboration from my colleagues and the extraordinary support received from friends and family has all contributed to my success.