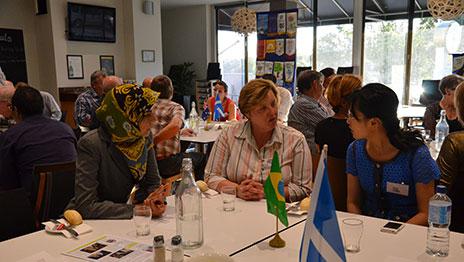 Victoria University postgraduate students from around the world joined members of the Keilor East Rotary Club over dinner to exchange ideas and learn more about one other.
The idea to introduce the 15 VU students to the volunteer community service group came from 93-year-old Aubrey McLaren, a member of Camberwell Rotary for 40 years, and father of Yvonne Giltinan, an international careers project officer with Victoria University. The Keilor East club is attended by Dr Daryl Cornish, director of VU's professional services, who brokered the invitation.
The students are studying a range of postgraduate courses at VU including teaching, aged care, food technology, engineering and finance, and are here from Italy, Indonesia, Iran, Malaysia, Thailand, China, India and Pakistan.
Before dinner, the students were briefed on the role of Rotary, and the projects the Keilor East Rotary has been involved in – including their weekly fundraising Sausage Sizzles at Bunnings, to the surprise of some students.
They were then matched with Rotarians with relevant occupations and introduced to the group.
"I found the meeting extremely valuable and got to meet some wonderful people," said Master of Aged Care student Victor Vimal Ayyappan. "The experience has certainly added to my growing knowledge of Australia, its people and culture."
International Student Association President Nana Waehama from Thailand presented gifts to the Club on behalf of the students.